Blepharoplasty lipofilling dark circles
Correcting dark circles is one of the most difficult things in aesthetic surgery.
The new lipofilling technique with the lipopen allows to treat this frequent issue with great accuracy.
During the lower eyelid blepharoplasty, microfat is harvested and injected with this electronic device to restore volumes in the lower eyelid and the cheek.
A fat pad spreading through internal access in the lower eyelid and an endoscopic temporal facelifting have been performed at the same time.
The result is shown at 6 months postop.
Eyelid surgery
Eyelid surgery
Heavy and droopy upper eyelids
Upper lid excess skin
Correction by upper lid blepharoplasty
Scar dissimulated in the upper lid crease
6 months result
Lower blepharoplasty in men
Lower blepharoplasty in men
Replace the "tired" aspect of the look with a more relaxed appearance
Small horizontal wrinkles consecutive to the cutaneous distension
Correction of the signs of aging of the lower eyelids
6 months result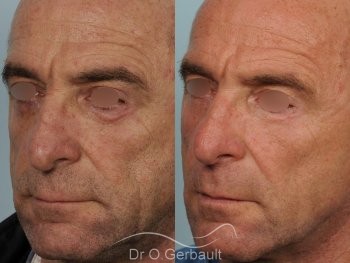 Blepharoplasty with lipofilling
Blepharoplasty with lipofilling
Replace the "tired" aspect of the look with a more relaxed appearance.
Fat hernias, responsible for "bags under the eyes"
Correction of the signs of aging of the lower eyelids
Filling of the eyelids by fat grafting
Result at 3 months, 6 months and 2 years