Blepharoplasty: durability over time
Upper and lower blepharoplasty, by Dr. Gerbault:
It is often asked whether the result of a blepharoplasty is durable over time. It depends on many factors related to the technique used as well as to the lifestyle of the patients and their genetics.
This patient underwent upper and lower conjunctival blepharoplasty with fat spreading and lipofilling.
The result at one year shows a natural embellishment of the look and the 5 years result shows the stability of the correction.
Blepharoplasty of the 4 eyelids with eyelid bags spreading and external canthopexy
Blepharoplasty of the 4 eyelids with eyelid bags spreading and external canthopexy, by Dr. Gerbault:
Facial aging first affects the eye. Over time, fat bags may appear, the skin of the eyelids relaxes and becomes looser. The gaze sags and weighs down.
A correction by upper and lower blepharoplasty combines several technical acts to be natural:

Remove a little extra skin.
Spread out the fat bags to fill the digging of tear troughs just below the eyebags.
Tightening the eyelids by external canthopexy and muscle plasty.

The result at just over 3 months shows the correction of heavy and tired eyelids without changing the look.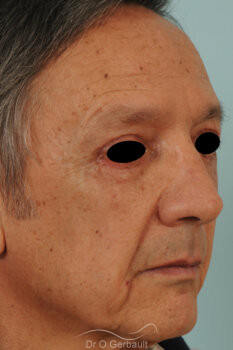 Blepharoplasty lipofilling dark circles
Correcting dark circles is one of the most difficult things in aesthetic surgery.
The new lipofilling technique with the lipopen allows to treat this frequent issue with great accuracy.
During the lower eyelid blepharoplasty, microfat is harvested and injected with this electronic device to restore volumes in the lower eyelid and the cheek.
A fat pad spreading through internal access in the lower eyelid and an endoscopic temporal facelifting have been performed at the same time.
The result is shown at 6 months postop.
Eyelid surgery
Eyelid surgery
Heavy and droopy upper eyelids
Upper lid excess skin
Correction by upper lid blepharoplasty
Scar dissimulated in the upper lid crease
6 months result
Lower blepharoplasty in men
Lower blepharoplasty in men
Replace the "tired" aspect of the look with a more relaxed appearance
Small horizontal wrinkles consecutive to the cutaneous distension
Correction of the signs of aging of the lower eyelids
6 months result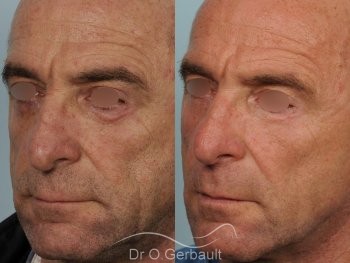 Blepharoplasty with lipofilling
Blepharoplasty with lipofilling
Replace the "tired" aspect of the look with a more relaxed appearance.
Fat hernias, responsible for "bags under the eyes"
Correction of the signs of aging of the lower eyelids
Filling of the eyelids by fat grafting
Result at 3 months, 6 months and 2 years