Wide and long nose
Rhinoplasty on wide and long nose, by Dr. Gerbault:
This beautiful young girl was annoyed by her wide nose lacking sharpness and defintion, and that she also finded too long.
The acneic skin increases the lack of refinement feeling.
An ultrasonic rhinoplasty has allowed to reshape the nasal bones and refine the upper part of the nose.
The tip has been slightly deprojected and reshaped with cartilaginous suures, and secured with a support graft.
The result is showed at 18 months, with a significant and long lasting nose refinement.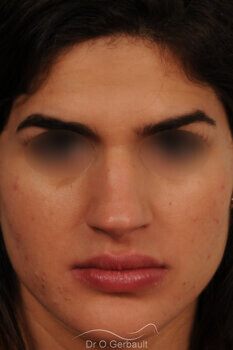 Nose too masculine
Nose too masculine
Strong and massive nose
Primary rhinoplasty
Feminization of the nose without overcorrection
Result at 1 year
Ethnic rhinoplasty in women
Ethnic rhinoplasty in women
Israeli-born woman with a nose too strong, marked hump.
Structural Rhinoseptoplasty for Refinement
Result at 1 year
Crooked Nose with a hump
Crooked Nose with a hump
Deviation of the nasal septum with breathing difficulties
Structural reduction rhinoplasty
Result at 1 year