Wide nose with bulbous tip on a thick skin
Rhinoplasty on wide nose with bulbous tip on a thick skin, by Dr. Gerbault:
Thick skins with a massive tip lacking finesse and with normal or excessive projection are one of the biggest challenges in rhinoplasty. Removing cartilage often only exacerbates the problem.
Structural rhinoplasty combined with the cartilages bidirectional tensioning allow a significant refinement of the tip even on thick skin. Unfortunately, patience is required on this type of skin to achieve the final result, which continues to improve in the years following the operation.
The result of a structural ultrasonic rhinoplasty is shown here at 1 year after the operation with a satisfactory refinement of the nose and tip without the need to change the position of the tip.
Profiloplasty with facial harmonisation
Profiloplasty with facial harmonisation, by Dr. Gerbault:
Aesthetics and function are inseparable when it comes to rhinoplasty.
This young woman complained of having a significant hump and a too large nose. Furthermore, she was breathing very badly on one side. Her very retruded chin accentuated the perception of a nose that was too strong.
A structural ultrasonic rhino septoplasty combined to chin augmentation with a Medpor implant allowed to correct the hump, refine the nose, improve nasal breathing and balance the face.
The result is shown frontal view at 6 days, 3 months and 15 months after the operation.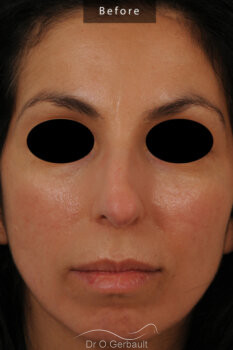 Wide and long nose
Rhinoplasty on wide and long nose, by Dr. Gerbault:
This beautiful young girl was annoyed by her wide nose lacking sharpness and defintion, and that she also finded too long.
The acneic skin increases the lack of refinement feeling.
An ultrasonic rhinoplasty has allowed to reshape the nasal bones and refine the upper part of the nose.
The tip has been slightly deprojected and reshaped with cartilaginous suures, and secured with a support graft.
The result is showed at 18 months, with a significant and long lasting nose refinement.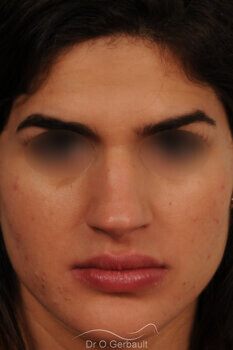 Nose too masculine
Nose too masculine
Strong and massive nose
Primary rhinoplasty
Feminization of the nose without overcorrection
Result at 1 year
Ethnic rhinoplasty in women
Ethnic rhinoplasty in women
Israeli-born woman with a nose too strong, marked hump.
Structural Rhinoseptoplasty for Refinement
Result at 1 year
Crooked Nose with a hump
Crooked Nose with a hump
Deviation of the nasal septum with breathing difficulties
Structural reduction rhinoplasty
Result at 1 year