Wide nose, significant hump, and droopy tip
Ethnic rhinoplasty on wide nose, by Dr. Gerbault:
Young woman coming from the Arabic peninsula with a wide nose, a significant hump, and a droopy tip. The skin is thick as it's usually on those type of noses.
An ultrasonic rhinoplasty has been performed to refine globally the nose and improve the tip definition. The tip support with a septal extension graft allows to lift securely the tip and to refine it.
The result is shown at one year post-op, which is the minimal time to achieve a result close to the final result.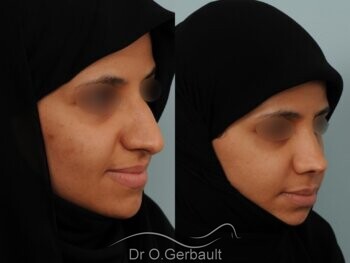 Ethnic rhinoplasty on thick nasal skin
To have a thick skin , a wide tip lacking definition with very weak cartilages lacking support: it's a difficult situation to achieve a good result in nose aesthetic surgery.
For this patient, there's also an alar cartilage malposition, increasing the bulbous appearance of the tip. It even worsens when the patient smiles ecause of the lack of tip support.
In this case, a highly structural rhinoplasty reinforcing all the parts of the nose with cartilaginous grafts is the only way to significantly refine the whole nose. It's combined with n ultrasonic rhinosculpture to refine the bony vault.
The result is still early at 3 months post op, and the nose will keep on refining in the next months.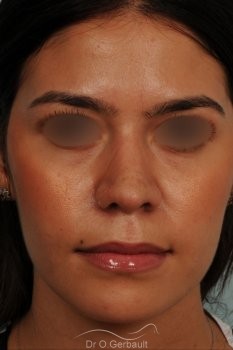 Too wide and too massive nose
Young woman was desperate because of her too wide nose, massive and lacking definition, that was a daily complex for her.
Structural ultrasonic rhinoplasty.
Piezo reshaping of her bony vault.
Refinement of the cartilaginous part of her nose with the new cartilaginous tensioning techniques, and tip projection and support with support grafts and cartilaginous sutures.
The result is at one year post-op, with an overall refined nose, that brightens and refines the whole face.
Male Rhinoplasty, Wide Nose
Male Rhinoplasty, Wide Nose
Wide nose (upper third, middle third and tip).
Primary Rhinoplasty.
Structural reduction rhinoplasty.
Result at 1 year.