Nez trop raccourci, pointe trop remontée, rétraction des ailes du nez
Secondary rhinoplasty on an over shortened nose, with an over rotated tip and alar retractions, by Dr. Gerbault:
It's rare that a patient can't stop smiling as she discovers her new nose after the splint removal six days after her secondary rhinoplasty. This is what happened with this charming patient whose nose had been severely damaged after a first rhinoplasty performed 11 months earlier.
She arrived significantly affected psychologically by her foreshortened nose with an overrotated tip and a strong alar retraction creating an excess visibility of the inner part of her nose.
A global reconstruction of her nose has been done with a lowering of the tip and alae and a lengthening of the nose, while keeping a natural and feminine look of the nose.
The result at day 6 post-op shows a natural result without any stigmata of the surgery after 3 hours and a half spent in the OR.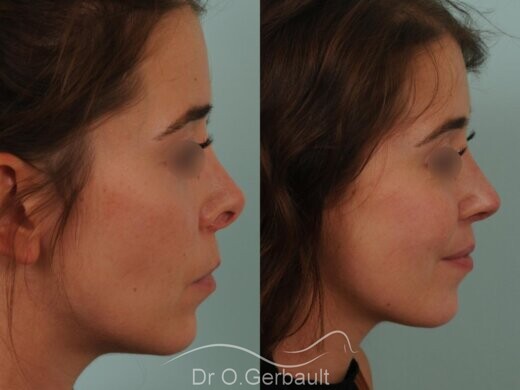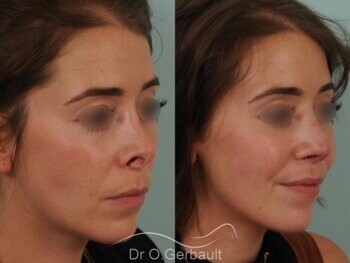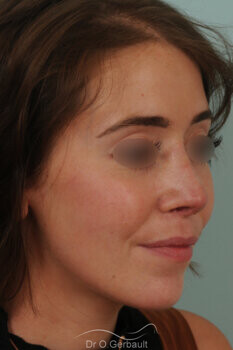 Tip asymmetry
Tip asymmetry
Pollybeak deformity
Tip asymmetry with retraction of the left alar rim.
Structural secondary rhinoplasty establishing a good support to the tip.
Correction of the retraction of the left alar rim and refinement of the rest of the nose.
Nose having been restructured are more rigid at digital pressure
Secondary rhinoplasty: Saddle nose deformity
Secondary rhinoplasty
Saddle nose deformity
Hanging columella and alar rim retraction
Dorsal augmentation with DC-F
Correction of the hanging columella
Lowering of the alar rims
Result at 18 months