Secondary rhinoplasty on nostrils too visible
Secondary rhinoplasty: too much cartilaginous trimming with conspicuous nostrils and retracted alae, by Dr. Gerbault:
Correction of aesthetic and breathing issues is common in secondary rhinoplasty. The appearance of very conspicuous nostrils after secondary rhinoplasty is very common, due to excessive resections of cartilage.
This young woman had a significant resection of her tip cartilages, and an incomplete correction of her deviated septum. She breathed worse after her rhinoplasty. She was very embarrassed by the appearance of her tip of the nose, the nostrils too conspicuous and retracted, the asymmetrical tip…
She benefited from an ultrasonic structural rhinoplasty with the use of costal grafts to reconstruct her nose, lower the tip and alae. These are long and complex operations that I continue to perform, having stopped secondary rhinoplasty for minor aesthetic and functional problems.
Nez trop raccourci, pointe trop remontée, rétraction des ailes du nez
Secondary rhinoplasty on an over shortened nose, with an over rotated tip and alar retractions, by Dr. Gerbault:
It's rare that a patient can't stop smiling as she discovers her new nose after the splint removal six days after her secondary rhinoplasty. This is what happened with this charming patient whose nose had been severely damaged after a first rhinoplasty performed 11 months earlier.
She arrived significantly affected psychologically by her foreshortened nose with an overrotated tip and a strong alar retraction creating an excess visibility of the inner part of her nose.
A global reconstruction of her nose has been done with a lowering of the tip and alae and a lengthening of the nose, while keeping a natural and feminine look of the nose.
The result at day 6 post-op shows a natural result without any stigmata of the surgery after 3 hours and a half spent in the OR.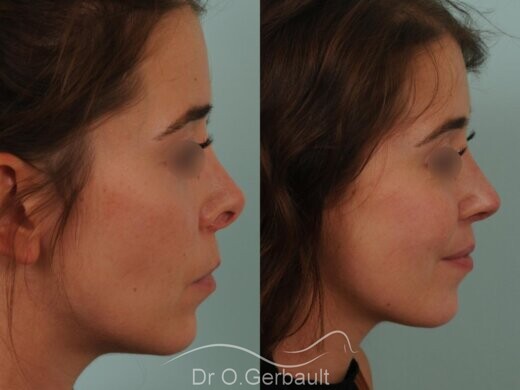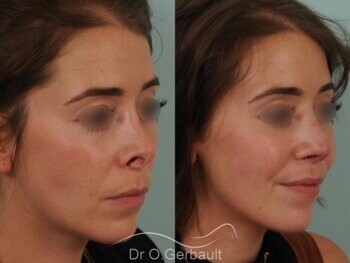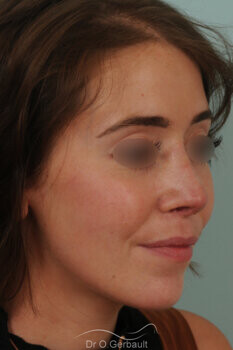 Tip asymmetry
Tip asymmetry
Pollybeak deformity
Tip asymmetry with retraction of the left alar rim.
Structural secondary rhinoplasty establishing a good support to the tip.
Correction of the retraction of the left alar rim and refinement of the rest of the nose.
Nose having been restructured are more rigid at digital pressure
Correction of a failed rhinoplasty
Correction of a failed rhinoplasty.
Twisted nose with deviation of the septum and significant asymmetry of the tip after rhinoplasty
Secondary rhinoplasty with repositioning of the septum,
Tip repair with cartilage sutures and cartilaginous grafts.
Preventive camouflage because the skin is very thin
Result at 6 months
Secondary Ethnic Rhinoplasty
Secondary Ethnic Rhinoplasty
Iranian patient already operated for a hump and a broad tip.
Persistence of 2 problems with inverted V deformity.
Persistent septal deviation.
Secondary rhinoplasty with ultrasonic rhinosculpture.
Spreader grafts and rebuilding of the architecture of the nasal pyramid.
Result at 1 year.