Ethnic rhinoplasty on thick nasal skin
To have a thick skin , a wide tip lacking definition with very weak cartilages lacking support: it's a difficult situation to achieve a good result in nose aesthetic surgery.
For this patient, there's also an alar cartilage malposition, increasing the bulbous appearance of the tip. It even worsens when the patient smiles ecause of the lack of tip support.
In this case, a highly structural rhinoplasty reinforcing all the parts of the nose with cartilaginous grafts is the only way to significantly refine the whole nose. It's combined with n ultrasonic rhinosculpture to refine the bony vault.
The result is still early at 3 months post op, and the nose will keep on refining in the next months.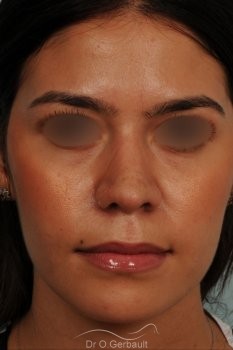 Secondary Ethnic Rhinoplasty
Secondary Ethnic Rhinoplasty
Iranian patient already operated for a hump and a broad tip.
Persistence of 2 problems with inverted V deformity.
Persistent septal deviation.
Secondary rhinoplasty with ultrasonic rhinosculpture.
Spreader grafts and rebuilding of the architecture of the nasal pyramid.
Result at 1 year.
Bulbous and wide tip
Bulbous and wide tips lacking definition are a real challenge when the skin is thick. They need very specific techniques for a global balanced refinement.
Structural ultrasonic preservation rhinoplasty.
She went back to work 6 days after the surgery: no one noticed that she had a rhinoplasty.
She came back at 2 months postop, delighted by the result and happy that everyone found her prettier without knowing what had happened! This is what all the patients say when the final result is natural.
Ethnic rhinoplasty
Ethnic rhinoplasty
Nose too strong with round tip
Important septal deviation
with breathing difficulties
in a young woman of Turkish origin
Refinement of the nose and straightening of the nasal septum
Result at 1 year
Structural Ethnic Rhinoseptoplasty
Structural Ethnic Rhinoseptoplasty
Woman of North-African origin
Marked hump
Structural Rhinoseptoplasty for Refinement
Result at 2 years
Ethnic rhinoplasty in women
Ethnic rhinoplasty in women
Israeli-born woman with a nose too strong, marked hump.
Structural Rhinoseptoplasty for Refinement
Result at 1 year