Significantly twisted nose
Significantly twisted nose, by Dr. Gerbault:
Significantly twisted noses are challenges in rhinoplasty: they frequently combine a facial asymmetry and a significant septal deviation. They are real aesthetic issues, but also functional issues with a nasal obstruction at least on one side.
This lady had both issues and beneficiated from an ultrasonic rhinoplasty with an ultrasonic septoplasty to straighten the septum, stabilize it in a straight position, and fix the nasal asymmetries while refining the nose.
The result is shown at a little more than a year post-op with an improvement of the asymmetry, and the returnof a normal nasal breathing.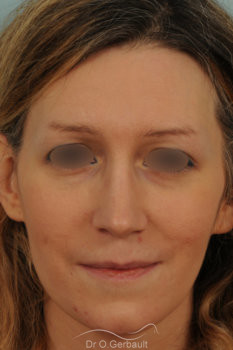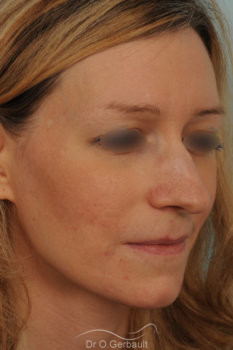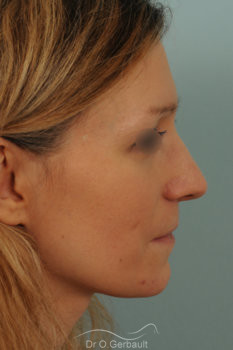 Ethnic rhinoplasty
Ethnic rhinoplasty
Nose too strong with round tip
Important septal deviation
with breathing difficulties
in a young woman of Turkish origin
Refinement of the nose and straightening of the nasal septum
Result at 1 year
Ultrasonic rhinoplasty by Dr R. Makhoul
Ultrasonic Rhinoplasty by Dr. R. Makhoul
structural reduction rhinoplasty with correction of the crookedness of the nose,
important hump reduction and correction of the plunging tip
Functional Rhinoplasty
Functional Rhinoplasty - Dr Gerbault
Right septal deviation
Facial asymmetry
Septorhinoplasty
Result at 2 years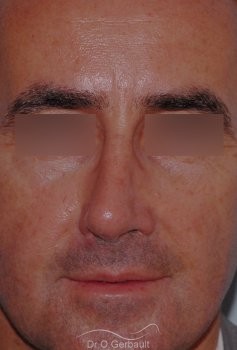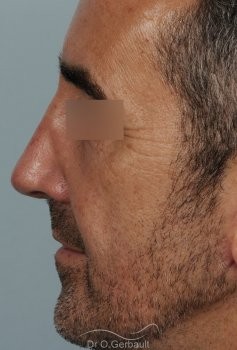 Correction of a Hump in a male patient
Correction of a Hump in a male patient
Strong and massive nose with marked hump
Structural Rhinoseptoplasty
Result at 1 year
Ethnic rhinoplasty in women
Ethnic rhinoplasty in women
Israeli-born woman with a nose too strong, marked hump.
Structural Rhinoseptoplasty for Refinement
Result at 1 year
Posttraumatic male rhinoplasty
Broken nose in the man by Dr Gerbault
Nose with a very marked hump after a traumatism
Structural Rhinoseptoplasty
Result at 1 year
Ethnic rhinoplasty, hump correction
Ethnic rhinoplasty, hump correction
Woman of North African descent
Deviated nose with a hump and drooping tip
Structural Rhinoseptoplasty for refinement
Ultrasonic rhinoplasty
Result at 1 year