Primary rhinoplasty on thick skin of the Indian type
Primary rhinoplasty on thick skin of the Indian type, by Dr. Gerbault:
A significant refinement of the nose is possible even on thick skin, if the appropriate rhinoplasty techniques are used.
This young woman was asking for a treatment of her hump and her too wide tip, to achieve a smaller and cuter nose.
She had a structural ultrasonic rhinoplasty with an overall reshaping of her nose without breaking nasal bones.
The result is early (3 months) but already significant.
Primary rhinoplasty on thick skin of the Maghreb type
Primary rhinoplasty on thick skin of the Maghreb type, by Dr. Gerbault:
A significative refinement of thick-skinned noses is one of the most difficult part of rhinoplasties.
One can't directly change the skin. Therefore, structural rhinoplasty process has to be used to print on the skin, especially the tip, the desired refinement.
This is what has been performed in this case, with also a Dorsal Preservation Ultrasonic Rhinoplasty the refine the rest of the nose.
Another benefit of structural rhinoplasty is to efficiently avoid tip deformities with smiling.
The result is shown at 1 year post-op, and is the maximum refinement achievable on this type of skin.
Overprojected nose on a thick skin
Reducing harmoniously and naturally an overprojected nose on a thick skin patient is one of the most difficult tasks in primary rhinoplasty.
This requires to use very specific techniques of structural rhinoplasty, but also alar reduction.
An ultrasonic rhinoplasty has allowed to refine also the bony vault.
4 months after, the nose size is more balanced with the face, even if the tip still remains a little swollen.
The result is natural and doesn't make any surgery noticeable.
Ethnic rhinoplasty on thick nasal skin
To have a thick skin , a wide tip lacking definition with very weak cartilages lacking support: it's a difficult situation to achieve a good result in nose aesthetic surgery.
For this patient, there's also an alar cartilage malposition, increasing the bulbous appearance of the tip. It even worsens when the patient smiles ecause of the lack of tip support.
In this case, a highly structural rhinoplasty reinforcing all the parts of the nose with cartilaginous grafts is the only way to significantly refine the whole nose. It's combined with n ultrasonic rhinosculpture to refine the bony vault.
The result is still early at 3 months post op, and the nose will keep on refining in the next months.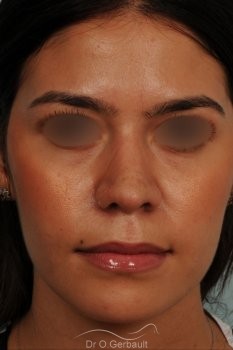 Wide Nose
Structural rhinoplasty for refinement.
Primary rhinoplasty on thick skin.
Wide nose, wide and dependent tip.
Reinforcement of the support of the base of the nose achieved through structural rhinoplasty.
Rhinoplasty with thick skin and overprojected nose
Rhinoplasty with thick skin and overprojected nose
Nose too long, wide and overprojected tip
Structural reduction rhinoplasty with ultrasonic rhinosculpture
1 year result
Nose too masculine
Ethnic ultrasonic rhinoplasty

Nose too masculine in a patient from Dubai
With thick skin
Structural reduction rhinoplasty
with ultrasonic rhinosculpture to feminize and refine the nose
Result at 6 months