Orlando Meeting 2019 : Advances in Rhinoplasty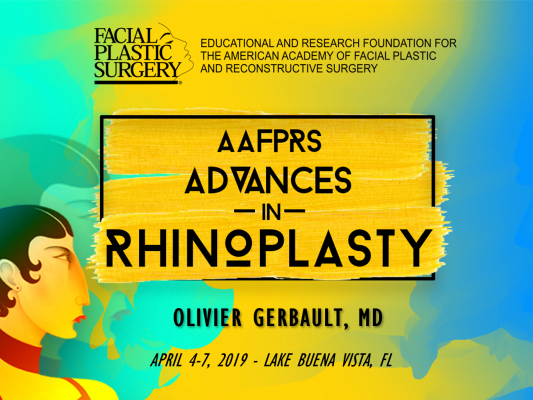 Dr. Gerbault goes to the congress Advances in Rhinoplasty 2019, organized by the American Academy of Facial Plastic and Reconstructive Surgery (AAFPRS).
---
This is the largest international congress dedicated to rhinoplasty
This is the largest international congress dedicated to rhinoplasty, in number of participants and notoriety. It bringing together, every 2 years, plastic surgeons and ORL, specialized in rhinoplasty, as well as those who are at the forefront of the evolution of rhinoplasty techniques. Nearly 800 participants from 45 countries will be present for the meeting in Orlando from April 4 to 7, 2019. Many exhibitors will also be there.
He will speak on April 4, 5 and 6 on his current research topics:
Ultrasonic Rhinoplasty.
The use of the full open approach in rhinoplasty (which allows everything to operate under direct visual control, and not partially blind as is the case traditionally).
A new way the reshape the tip of the nose.
Moreover, as usual during most of his travels abroad, Dr. Gerbault will train his colleagues on ultrasonic rhinoplasty techniques during the practical workshop of specimen dissection on Sunday, April 7th.
---
The main themes of the meeting are:
The advent of structural rhinoplasty to get sustainable results, both aesthetically and functionally.
The development of the full open approach in rhinoplasty (developed by Dr. Gerbault), to visualize all the reliefs of the nose.
The fast development of ultrasonic rhinoplasty around the world: the instruments developed by Dr. Gerbault and the ultrasonic rhinoplasty techniques that he has developed are used by plastic surgeons as well as ORL and maxillofacial surgeons.
New concepts in functional surgery, especially for nasal valve surgery.
The preservation surgery of the nasal dorsum, of which one of the pioneers, Dr. Yves Saban, is also present in Orlando, and for which the piezosurgery participated in the development.
Finally, a big event will mark this congress: the release of the book in three volumes of Dr. Dean Toriumi on his 30 years of experience in structural rhinoplasty.